Meghan and Harrys big day is nearly here! Time for a ragtag assortment of psychics, royal experts, dictators, bookies and, naturally, Paul Burrell to step up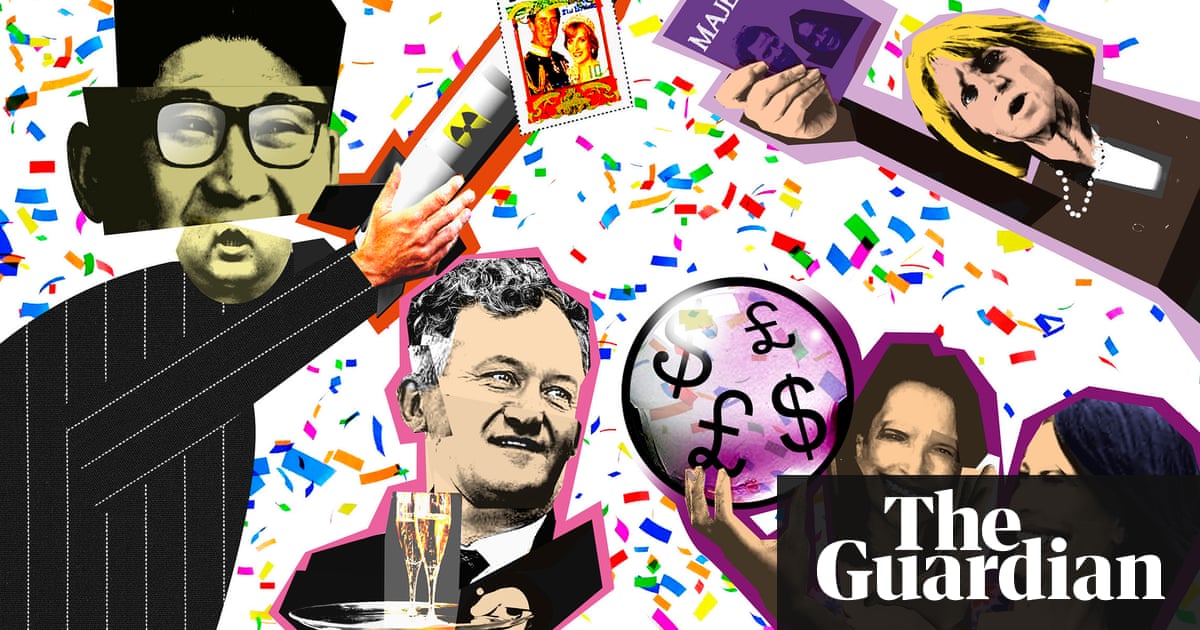 Ladies and gentlemen, we are officially T-minus about seven weeks. On 19 May, Ms Meghan Markle will marry Prince Harry, expunging all previous incidents of casual racism from the record. The event will take place at St George's Chapel, Windsor Castle, and none of their proper friends has the first clue it's Cup Final day. That said, when the Archbishop of Canterbury asks if anyone knows any reason they should not be joined in matrimony, it is going to go to VAR for two minutes. Other than that, the day promises to be one of gaiety for the nation.
Of course, there will always be stick-in-the-muds who cannot be even ironically amused by an event that they have – let's face it – partially paid for. Returning home after William and Kate's wedding, which I had been covering, I learned that my husband had not seen a single second of the day's proceedings, having instead decided to watch The Sorrow and the Pity, a four-and-a-half hour documentary about Nazi collaboration in Vichy France. What can you say? Having failed to catch any of the ceremony, he was unable even to answer my inquiry as to whether there had been any crossover between the featured players in that searing 1969 work and the royal wedding guestlist. (You'd have thought at least a couple.)
Anyhow, as veterans of such fixtures know, a royal wedding means many things. Glorious partworks, limited-edition bone china and the tantalising prospect of US broadcast contracts for some of the royal family's most rococo ex-servants. Fear not, we will come to him more fully in a bit. Because it's not just about Paul – it's about the royal experts, the bookies, the rogue state dictators and so many more. In this spirit, Lost in Showbiz launches a glorious partwork of its own. Chancers of the Royal Wedding will celebrate some of the people for whom the event presents a fairly lunatic form of commercial opportunity.
Many of us are chancers, of course – I myself am writing this article about it all, and I suspect it won't be the last. I count myself as at least in the third or fourth circle of the chancer Inferno. In the ninth circle, we'll place all the psychics telling us what Diana thinks about Meghan. And so to our chancers.
Paul Burrell

Well, there's no show without Punch. At this time of year, Princess Diana's former butler can reliably be found on a tour of the southern hemisphere reality formats, and has duly just completed a stint on I'm a Celebrity Australia.
Without the wedding, Paul would have little to occupy himself, other than linking Liam Hemsworth with his role in series five of The Crown. With it, he has a very busy few weeks ahead. According to the Mail, Paul "has hinted he's not expecting an invitation" to the wedding, much in the way I have hinted I am not expecting a call-up to Gareth Southgate's World Cup squad. Paul explains that this is because Princes Harry and William have "moved on" from the time when he "belonged to their world". In terms of the precise moment at which they "moved on", I always feel it was probably when they discovered he'd stuffed large amounts of their mother's dresses and personal possessions in his attic "for safekeeping". As for the ensuing trolley dash – the tell-all books, the TV deals, the teasing of their mother's innermost secrets – we may never be able to put our fingers on exactly why Paul no longer "belongs to their world". But I am pleased to report he is contracted for a primetime Fox special entitled Meghan Markle: An American Princess, and the US will certainly want more in the lead-up to the day.
The only question is that of his billing. I'm not sure Paul will find "former butler" to his liking any more. A year ago, he had to deny he was trying to flog a story about a gay orgy on the royal yacht, which his agent said he had told Diana about "when he worked with her". If you enjoyed that "worked with", as though the princess and her butler had been business partners, you may care to note that Paul has now upgraded their relationship even further. "She was my friend," he told the Australian media this month, "and I loved her very much … Take away the fact she was a princess – just think of her as a woman, which is what I thought of her behind closed doors. … I feel I do have a responsibility to talk about my friend, because it may inspire other people."
Yup. It has certainly inspired me to update the succession rankings. Paul is formally moved to 14th in line to the throne, bumping down Peter Phillips's daughter, Savannah. Let's hear much more from him at his very earliest.
Kim Jong-un

Strange though it may seem, the current North Korean dictator's grandfather, Kim Il-sung, issued a set of commemorative stamps to mark the wedding of Prince Charles and Lady Diana Spencer, and the next year went on to release two further sets: one to commemorate Princess Di's 21st birthday, and the other to mark the birth of Prince William. Might Kim Jong-un be as susceptible to philately, and consider a re-run for Harry and Meghan? Perhaps unlikely. Then again, issuing collectible stamps is a way of printing money, plus the move has the bonkers inscrutability Kim likes to cultivate. Pencil this one as "developing".
The psychics

If we are to believe the psychics, Princess Diana spends much of her afterlife speaking to their good selves. And yet, if only they had more artful imaginations, their work would provide so much more merriment. Take John Edward, the one who was recently in the I'm a Celeb jungle with Burrell, and gave him a "psychic reading" in which he claimed to be speaking to Diana. Edward told Paul: "Your friend wants to tell you that the dream where she came to you in the royal blue dress was real."
Now let's look at how the conversation should have gone. "Hang on – I'm getting someone … ooh, It's Diana." Gasp! What's she saying? "She's saying: 'Paul, when you've finished taking away the tea things, can you whizz this jacket to the dry cleaners so I can wear it when my actual real friend Elton comes over later for dinner and a row.'"
One who always delivers is Diana's psychic healer, Simone Simmons, who we last heard from when Princess Di contacted her to explain she would have backed Brexit. During that conversation, Simone also claimed Di told her "the right person" was someone other than Meghan – so make of that what you will. I've a feeling in my waters that we're due another intervention from Simone, but for now we have psychic twins Terry and Linda Jamison, who this week revealed Diana had told them she'd be at the wedding.
The royal experts

To give you a sense of scale, there are almost more royal experts in this country then there are minor royals on the continent. Most of them are journalists, meaning levels of intermarriage are thought to be similar. On the basis that we have to start somewhere, today's featured expert is Ingrid Seward, editor of royal jazz-mag Majesty, whose title is believed to be a reference to its editor as opposed to its subject matter. "American manners are different than British manners," Ingrid sweetly told the New York Post when the engagement was announced. "Meghan can't walk down the street eating or chewing gum." Anything else? "We hold our cutlery differently. It's a whole different culture." Majestic. And I know this tireless scourge of the non-U will have kicked herself afterwards for saying "cutlery" instead of "knives and forks". We must hope Ingrid will emerge on the big day itself, if only to accept a few posies from wellwishers.
The bookies

Confusingly, royal weddings offer bookies media opportunities in the form of announcements that they have stopped taking bets on things. There is no piece of wedding arcana so obscure that they would not find themselves "forced" to suspend the market on it, or risk their entire business.
This has already begun. According to Paddy Power, "our traders have been inundated" with people betting that Meghan's wedding dress will be designed by house of Alexander McQueen, to the point that they have "stopped taking bets". Please don't be so unsporting as to inquire if they have honestly taken a lot of bets. Instead, just play along with the idea that betting shops were so deluged by gamblers shouting "I'll have a monkey on Oscar de la Renta" that people were unable to use the fixed odds terminals in soul-sucking peace.
Here concludes the inaugural Chancers of the Royal Wedding. More as they emerge in the weeks ahead.
Read more: www.theguardian.com