For six months, I attempted to quiet my fact-checking, left-brain voice and tap into my goddess roots, where fantasy and reality are interchangeable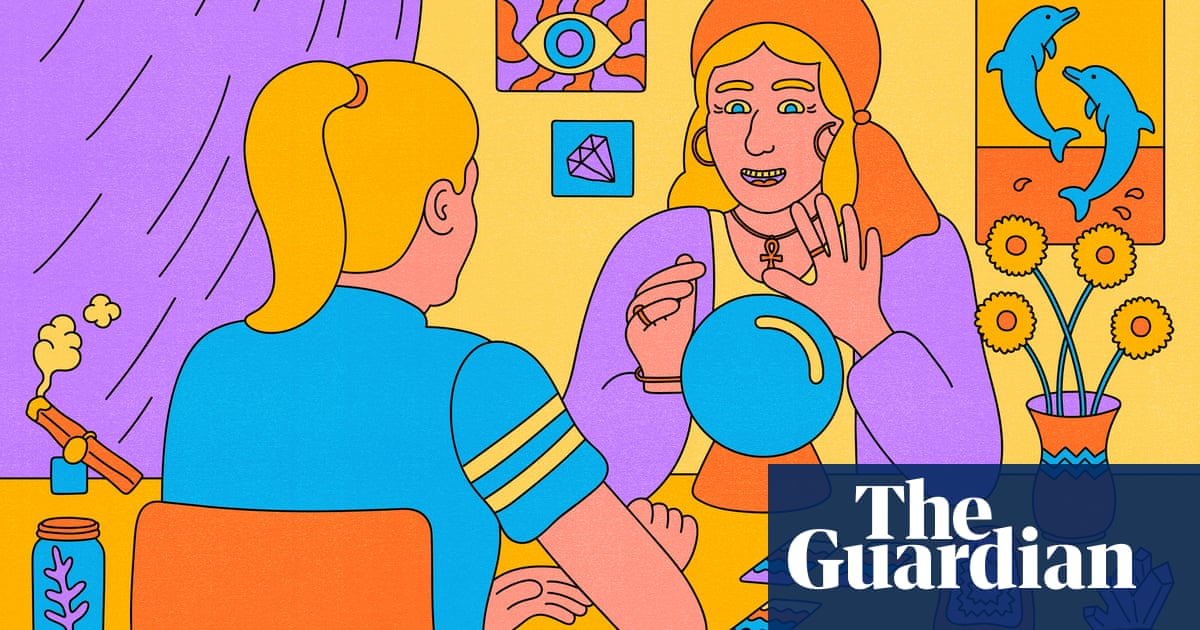 Montclair Psychic School sits above a florist's shop in the town of Rutherford, New Jersey. On a Sunday in June, eight students sit in a yellow painted classroom, watching a mastiff named Axel sniff a bust of the Buddha.
"C'mere, Axel," says a woman whose T-shirt reads: "Medicine heals the body. DOGS heal the soul." She offers him a treat. "Good boy."
Axel slobbers on her lap, then lopes around the room, sniffing amethyst crystals, a conga drum and a gold Tibetan singing bowl.
"Send your heartstrings out," says Natalie Anderson, a special education teacher who moonlights as an animal communicator. "Connect. Ask Axel: what's in his world? What does he know? What does he want? Don't be shy."
Axel drools on the rug as the students try to read his mind.
"He's saying 'hikes'," says one woman. "He wants a job, so he feels like he has a purpose. Maybe he can get a backpack, so his job can be carrying water on hikes?"
A description of this seven-hour "pet communication" class reads: "You will learn how to send thoughts to your animal companions and trust what you are receiving back. It is only a matter of understanding telepathic communication, the natural mode of communication for all animals AND an inherent ability for all humans!"
"Say whatever's coming to mind," Natalie instructs. "Give me that spirit vomit."
The students say: "He's bored."
"He wants a playmate. And some variety in his dog food."
"He wants training. Focus. A task."
Axel sniffs a rock painted with a butterfly and the word "BELIEVE". A lava lamp glows on a wooden chest. On the wall, a clock with the words "I SEE DEAD PEOPLE" printed on its face reads 3pm. It's time for Axel's afternoon walk.
"Bye, Axel!" the students say. "Thanks so much!"
Everyone is psychic!
Montclair Psychic School was founded by a woman named Lee Van Zyl in 2006 on the premise that every single person has "psychic abilities". The definition varies depending on whom you ask but here, in addition to animal telepathy, the school offers instruction in angel-channeling, mind-reading, psychometry and communication with spirits of the dead.
Read more: www.theguardian.com