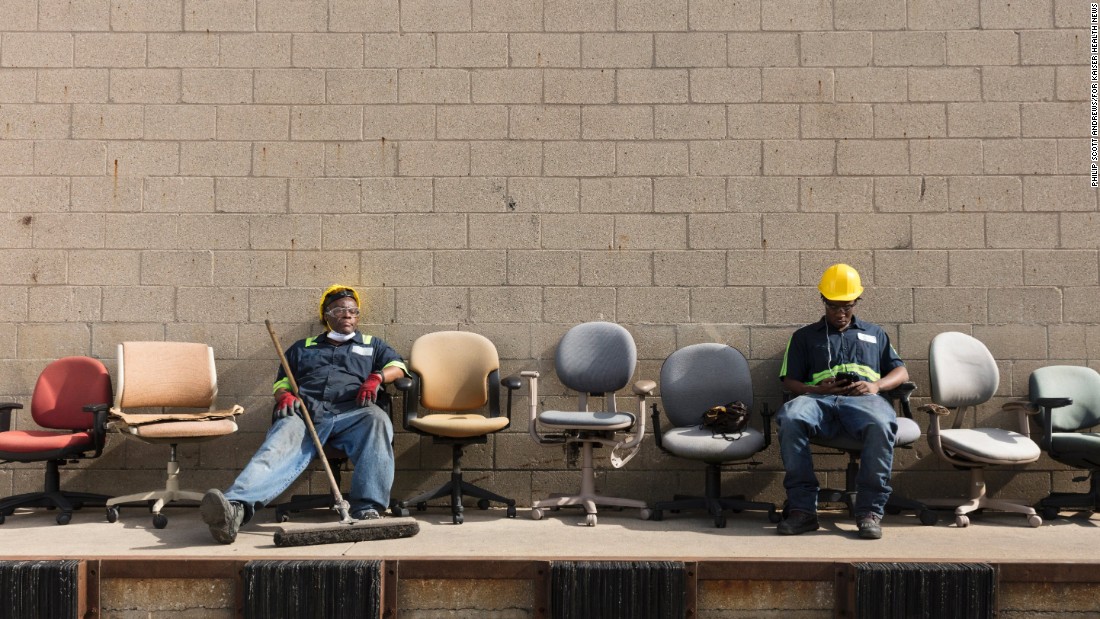 Indianapolis (CNN)Before he went to prison, Ernest killed his 2-year-old daughter in the grip of a psychotic delusion. When the Indiana Department of Correction released him in 2015, he was terrified something awful might happen again.
He had to see a doctor. He had only a month's worth of pills to control his delusions and mania. He was desperate for insurance coverage.
But the state failed to enroll him in Medicaid, although under the Affordable Care Act Indiana had expanded the health insurance program, making most ex-inmates eligible. Left to navigate an unwieldy bureaucracy on his own, he came within days of running out of the pills that ground him in reality.
"I have a serious mental disorder, which is what caused me to commit my crime in the first place," said Ernest, who asked reporters to use only his middle name to protect his privacy. "Somebody should have been pretty concerned."
The health law was expected to connect Ernest and almost all other ex-prisoners for the first time to Medicaid coverage for the poor, cutting expensive visits to the emergency room, improving their prospects of rejoining society and reducing the risk of spreading communicable diseases that flourish in prisons.
But Ernest's experience is repeated millions of times across the country, an examination by The Marshall Project and Kaiser Health News shows.
Indiana officials applied for Medicaid on behalf of more than 7,000 state prisoners from March through September — nearly 90 percent of those released. (Many of the others were released to other states or deported, officials said.) Yet only a little more than half called to activate their coverage when they got home, according to state data. The state said in recent weeks it eliminated the requirement to activate coverage with a call.
Released prisoners also often need to reestablish identification by applying for Social Security cards and birth certificates. That can take weeks or months. Sometimes there's another step: enrolling in one of the private, managed care networks that many states hire to administer Medicaid benefits.
In the chaotic days and weeks after release, red tape can mean the difference between joining Medicaid or remaining cut off from community caregivers.
William Santee, 46, released from Pennsylvania state prison this year, has diabetes, high cholesterol and high blood pressure. He learned about Medicaid enrollment requirements and the need to visit a welfare office from workers at a homeless shelter.
The prison "didn't tell me about where to go or anything like that," he said. "They don't consider that their responsibility." Waiting in line and completing the welfare-office paperwork took five hours.
Getting the details right
Almost as critical as successful enrollment is choosing a Medicaid plan that covers medicines and services ex-inmates need. Jail and prison workers are rarely equipped to wade through such details.
"That's a huge issue for us," said Susan Jo Thomas of Covering Kids and Families, a nonprofit that helps enroll people in Medicaid in Indiana. "You finally get a person to the place where they are ready … to go into detox, but if they have aligned with an insurance company that doesn't cover the medicine that program uses, then you have a problem."
In some extreme cases bureaucratic rules clash, leaving ex-prisoners stranded between agencies. In Indiana and several other states, corrections departments consider prisoners in work release programs, who report to jobs during the day, to be free. That means they're not eligible for care from the prison system.
Medicaid, on the other hand considers them still incarcerated. So they can't enroll in community health coverage, either.
"We got all excited when Obamacare came out, because everybody's going to be covered," said Peggy Urtz, who runs an Iowa work release facility for women. Instead, she said, the women "are going to ERs when they're ill and racking up medical bills. We have good providers, well experienced in working with women, and they can't go to them because they don't have insurance."
A few states and localities reap praise for innovative and comprehensive attempts to enroll emerging prisoners in Medicaid.
Ohio recently finished phasing in Medicaid registration at all state prisons and is one of the few states giving inmates a managed-care insurance card as they leave, said John McCarthy, that state's Medicaid director. Chicago's huge Cook County jail puts prisoners on the Medicaid books as they enter, rather than before they leave, to sidestep the common problem in jails of unpredictable release dates.
More often the process looks like what was happening one recent Friday in Indiana's Marion County jail, where Lt. Debbie Sullivan was trying to rouse sleepy women to sign up for health insurance.
The document she distributed was three pages long, authorizing a Medicaid application on inmates' behalf. It asked for names, addresses, birth dates and Social Security numbers. The handwritten information would later be entered into computers — a recipe for transposed digits and misspelled names.
"The program remains a work in progress," said Katie Carlson, a spokeswoman for the Marion County Sheriff's Office, which runs the jail. "It has proven a daunting task to enroll, track and provide meaningful information on both Medicaid and health care."
Experts say such sessions require a half hour or more to get the details right and answer questions about picking the right plan and following up with doctors and insurance officials after release.
Sullivan's knowledge of the women's next steps was minimal. In response to questions, she simply told them to contact their local social service office when they get out. She walked out of the block with about 30 signed applications. It was over in 15 minutes.
"Thank you ladies!" she called on her way out, as the heavy steel door slammed behind her.
Read more: www.cnn.com