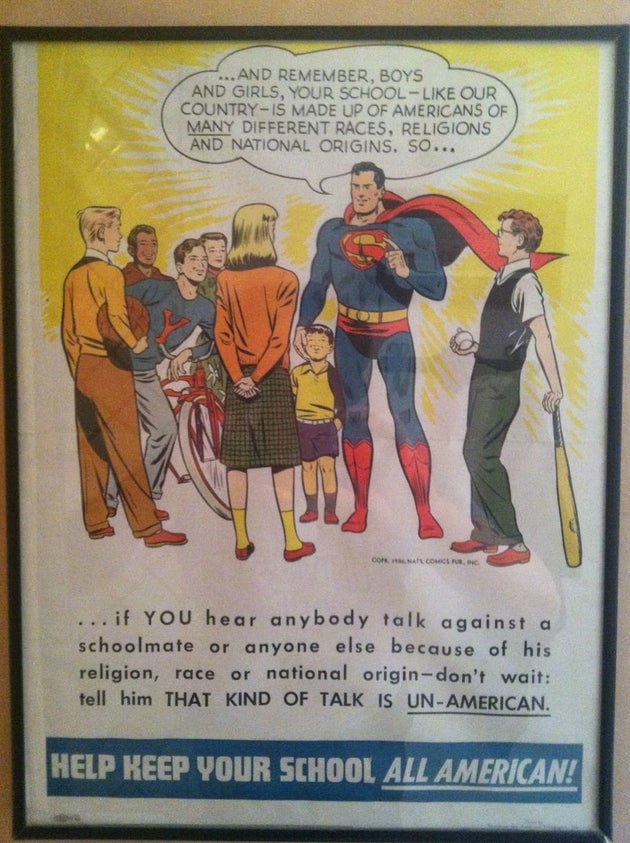 The poster reads: "…And remember, boys and girls, your school — like our country — is made up of Americans of many different races, religions and national origins. So if YOU hear anybody talk against a schoolmate or anyone else because of his religion, race or national origin — dont wait: tell him THAT KIND OF TALK IS UN-AMERICAN."
It's not clear where this photo of the poster originated, though a post on Reddit and Imgur referenced it about a year ago. It also received a bump in April from the Twitter account History In Pictures.
The fine print on the poster says it's from 1956, but a 2008 auction listing for a non-color version on the Hake's Americana & Collectibles website puts the copyright date at 1949. With a copyright for National Comics, the poster clearly predates the 1970s, when the company rebranded as DC Comics.
The Institute For American Democracy, an offshoot of the Anti-Defamation League, distributed the non-color image, according to the Hake's auction listing. Along with other organizations like the Council Against Intolerance, the group circulated posters in the mid-20th century promoting harmony between Catholics, Protestants and Jews and highlighting the fact that Americans come from many different nations. One subway ad from this era targeted baseball fans, reminding them their favorite players were of different races and religions.
There was clearly much more work to do in the 1950s to address racial and religious discrimination — but more than 60 years later, you'd think Superman's Cold War-era message would be common sense by now.
But given the recent political discourse in this country, it turns out the poster is as pertinent and timely as ever.
______
Tyler Kingkade is an editor and reporter based in New York. You can contact him at tyler.kingkade@huffingtonpost.com, or follow him on Twitter: @tylerkingkade.
Read more: www.huffingtonpost.com