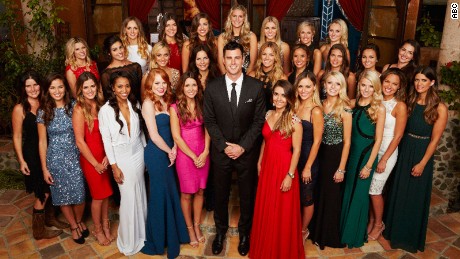 (CNN)Choosing a running mate is serious business. So is choosing a life partner. In fact, Trump's VP search — which he has publicly teased in TV and newspaper interviews, has more closely resembled a season of the "Bachelor" franchise than it has Trump's own "Apprentice." Trump's VP hunt and the show have paralleled each other in a number of ways.
Trump started with a large candidate pool, with many of his former rivals from the primary season — like New Jersey Gov. Chris Christie — looking like optimal choices. Likewise, the "Bachelor" and "Bachelorette" are presented with a large candidate pool on their first night in the mansion. Trump was able to narrow the field by participating in the main stage debates, the "Bachelor" franchise equivalent of a group date.
You have to wonder how the former contestants flirting with the idea of being Trump's vice president felt when he started meeting with people who hadn't even run for president, like Indiana Gov.
Mike Pence
. Probably the way "Bachelorette" contestants feel when cast members from previous seasons show up midway through.
You have to imagine that, like "Bachelorette" contestants, the potential VP picks are selling themselves hard.
Both situations have a loveable host to keep everyone in check. In the case of the "Bachelor" franchise, it's Chris Harrison. In real life, maybe it's Fox News' Sean Hannity.
After narrowing the list, both the presumptive nominee and the love-seekers treat their potential (running) mates to the delightful experience of
meeting their families
.
Then come the crucial one-on-one meetings/dates. On the "Bachelorette" dates will often take them to such locales as the Argentinian countryside. Trump got to visit the equally romantic state of Indiana, which has been called the Argentina of America. By me. Just now.
Spectators of both the show and the real life version are left wondering if the nice boy from Indiana will win.
Searches for both vice presidents and for love have a hard finale date. For the show, it's often during networks sweeps. In the case of the presidential race, it'll be the RNC in Cleveland. And like the "Bachelor" finales, it will be a production. Nothing says "I choose you" like thousands of lights and spectators/crew members watching.
In both cases, it's always about the journey. And living your best life. Whether you're literally
riding off on an elephant
or simply representing the party whose symbol is the elephant.
Read more: www.cnn.com