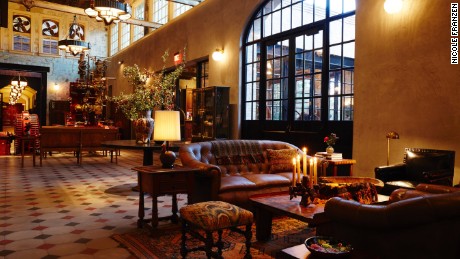 (CNN)Model T Fords used to roll across the floors of a vast, century-old building that now houses contemporary art and hotel guests.
Wriggling youngsters once occupied a former YMCA gymnasium, where wedding attendees and corporate cornhole champions today take advantage of a unique hotel event space.
Once devoted to beer, a new brewery-turned-hotel quenches 21st-century thirsts on several levels.
Hoteliers are keenly aware that many travelers are moving beyond cookie-cutter experiences in search of something local — spots that reflect the history and texture of their locations.
To that end, more companies in the United States are involved in adaptive-reuse projects — rehabbing buildings with a variety of past lives into hotels and other businesses that have a bit more pep and personality than some of the new-construction alternatives.
"You're able to get sort of that patina of a culture through its architecture, its history," said Gray Shealy, executive director of the Master's in Hospitality Management program at Georgetown University's School of Continuing Studies.
Beyond beds
Many of these properties put an emphasis on their public spaces, offering trendy restaurants and lobby bars that draw locals in addition to hotel guests.
"It's a place that fulfills more needs for guests than just sleeping in a room," Shealy said. "It's a place that feeds them, it's a place that they can work in, it's a place that they can socialize in, it's a place that can inspire them."
In some large, densely packed cities, a lack of available real estate for new development informs the decision to convert an existing building. In many less-traveled, secondary cities, transforming a historic building contributes to larger revitalization efforts.
In 2006, the first 21c Museum Hotel opened in downtown Louisville, Kentucky, mixing top-tier contemporary art, fine dining and lodging in a series of renovated tobacco and bourbon warehouses.
Preserving farmland is a big driver in choosing 21c locations.
"We feel like in order to do that a critical key is to reinvigorate city centers, making our communities more interesting to live in and work in than driving to the suburbs," said Steve Wilson, who started the company with his wife, Laura Lee Brown.
Five of 21c's six open properties are housed in old buildings, from the warehouses in Louisville to a former Ford Model T assembly plant in Oklahoma City.
Here are a handful of recent or upcoming properties that are rehabbed and ready for a new chapter:
21c Museum Hotel, Oklahoma City
Four site-specific artworks, including a misting steel tree, are inspired by the building's industrial heritage. Special contemporary art exhibits rotate through the museum and event space.
Built in 1916, original features of the Albert Kahn-designed building have been restored and recreated, from huge casement windows and weathered concrete pillars to an original terrazzo Model T showroom floor.
The loft-like guest rooms reflect the building's expansive scale and feature sleek contemporary furnishings and art. New American cuisine and craft cocktails are served at Mary Eddy's Kitchen x Lounge.
Rates at 21c Oklahoma City start at $239 per night.
Ace Hotel Pittsburgh, Pittsburgh
Late last year,
Ace Hotel Pittsburgh
opened in the city's East Liberty neighborhood in a nearly century-old former YMCA building.
A 4,550-square-foot gym, with a worn wooden floor, vintage benches and a portable bar, provides a throwback event space. Original light fixtures, doors and 1920s architectural details also evoke the building's past.
Stumptown Coffee, craft beer, wine and spirits are available at the lobby bars, and the Whitfield restaurant features regionally inspired cuisine.
The Pittsburgh hotel isn't Ace's only recent historic transformation.
Ace Hotel New Orleans opened in March in an Art Deco building that once housed a furniture showroom.
In 2014, Ace Hotel Downtown Los Angeles opened in a former United Artists office building next to a 1927 theater, also restored by Ace.
Rooms from $139 are currently available at Ace Hotel Pittsburgh.
Hotel Emma, San Antonio
Housed in an 1894 brew house on the northern banks of the San Antonio River,
Hotel Emma
puts a modern spin on serving up food and drink.
A clubby bar and a gourmet food shop join the hotel's restaurant, Supper, in combining creativity with comfort.
The 146-room hotel, which opened in November, incorporates distinctive elements of the building's brewing history.
Industrial equipment has been incorporated into light fixtures, chandeliers and banquettes, and original concrete vaulted ceilings, cast-iron staircases and exposed brick walls remain.
Rooms start at $350 per night.
Hotel Covington, Covington, Kentucky
It started with a horse named Knowledge — that's the beginning of
Hotel Covington's
story.
The northern Kentucky property, slated to open in August, occupies the former Coppin's Department Store. John Coppin opened the Covington store in 1910 thanks to winnings from a bet on a long shot.
The 114-room hotel will house Coppin's gastropub. Restored retail windows on the first floor invite hotel window shoppers to peek inside.
Hotel Covington is the work of Aparium Hotel Group, which is opening another property, Hewing Hotel, later this year in a former farm implement showroom and warehouse in Minneapolis.
Standard rooms at Hotel Covington start at $159. Starting rates for other room types and suites range up to $399.
The Beekman, a Thompson Hotel, New York
A stunning 9-story atrium is the crowning feature of
The Beekman
hotel in Lower Manhattan. Elegant Victorian cast-iron railings line galleries stretching up to a pyramidal skylight.
Located in the historic Temple Court Building, the atrium was once surrounded by more than 200 offices occupied by attorneys, publishers, architects and advertising agencies.
Construction of the turreted, red brick building started in 1881 on property already rich with artistic achievement. The New York debut of Shakespeare's "Hamlet" took place on the future site of one of Manhattan's first skyscrapers.
Today's 287-room hotel is scheduled to open in August with restaurants by James Beard award winners Tom Colicchio and Keith McNally.
Rooms start at $619.
Kimpton Cardinal Hotel, Winston-Salem, North Carolina
Winston-Salem, North Carolina's, tobacco roots run deep: R.J. Reynolds Tobacco Company was founded there in 1875.
An architectural inspiration for the Empire State Building, the 1929 Art Deco building's gold-leaf ceilings and lavish brass and marble work have been preserved.
In the hotel lobby, matchstick art and a cigarette machine that now dispenses small pieces of local art nod to the building's past.
The 174-room hotel opened in April. A rec room with a basketball court and bowling alley and an adjacent French brasserie called The Katharine are among the property's offerings.
Rates start at $161.
Trump International Hotel, Washington
White House or not, Donald Trump will always have somewhere to stay in the nation's capital.
Constructed between 1892 and 1899, the building once housed the U.S. Post Office Department headquarters and the city's post office.
The Romanesque Revival structure has undergone a $200-million transformation into a 263-room hotel that will house a fitness center and spa and BLT Prime steakhouse.
At the hotel's center is a 9-story atrium called the Cortile.
Rates start at $595 on weekends and $795 during the week
LondonHouse Chicago
In May,
LondonHouse Chicago
opened in the old London Guarantee and Accident building on the corner of North Michigan Avenue and Wacker Drive.
The Alfred S. Alschuler-designed building was completed in 1923 and housed a number of companies over the years, from its namesake insurance company to the studios of Chicago WLS radio, where Paul Harvey performed his syndicated show.
It was also home to the The London House jazz club.
Today, it's a 452-room hotel that combines the classical architecture of the original building with a modernist glass tower and sleek interiors.
Rates generally start at $279.
Read more: www.cnn.com