Here is something to chew on.
The London-based environmental nonprofit, Feedback, fed 5,000 people in Washington, DC, for free during its "Feeding the 5000" event on Wednesday. The lunches, which will be served from 11 a.m. to 4 p.m., are available to anyone who shows up. The organization, along with DC Central Kitchen and other local foodies will cook up veggie curry and meat chili made from ingredients that would have otherwise been thrown away.
The large-scale event, which attracts huge crowds, has taken place in cities all over the world, like Paris, Dublin, Sydney, New York City and Barcelona.
Tristram Stuart, the mind behind the event that first launched in London in 2009, decided the only way to inspire people to help solve the global food waste problem was to bring it to life.
"I thought there's no better way of doing that than feeding a lot of people with perfectly good food and letting them know that actually, if it weren't for this feast, all of this would have been wasted," he told WTOP.com.
Stuart has also successfully campaigned for grocery retailers, like the U.K. grocery giant, Tesco, to relax strict cosmetic standards for produce.
"Farmers leave up to 40 percent of harvests rotting in fields because their produce doesn't conform to the perfect size or shape big supermarkets demand," Stuart told National Geographic. "This even happens in countries like Kenya where millions of people are hungry."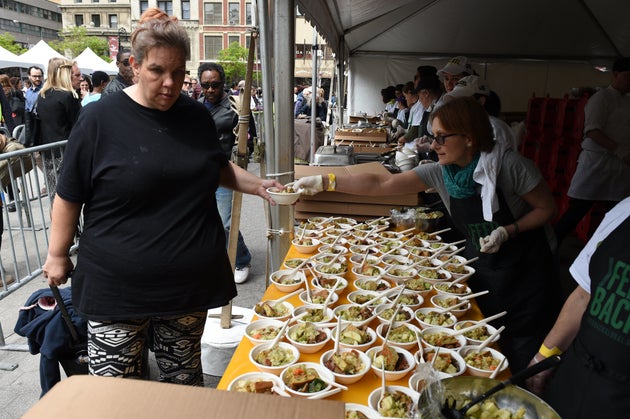 Since Stuart started his efforts, many supermarkets have changed policies and sell "ugly" fruits and vegetables at a discount.
Vegetables in Wednesday's food options, which will be donated from restaurants to local service providers, probably wouldn't pass muster at grocery stores, aesthetically speaking, but that doesn't mean the produce isn't tasty and nutritious.
Spike Mendelsohn, a former "Top Chef" contestant, owner of three DC eateries and chairman of DC's Food Policy Council, who will be cooking at the event, is taking a page from Stuart's book.
He will be utilizing an unconventional protein — beef heart — that is typically discarded, reports Washingtonian.com.
The commonly unused cut of meat will be added to his meat chili, or what he likes to call "kitchen sink chili," which is a dish that utilizes whatever leftover ingredients he has available.
Mendelsohn is resourceful with his ingredients and urges other Washingtonians to aid in the fight to curb food waste starting at work.
"I feel like chefs have a duty to make people more aware of this problem, but then also practice it in their own restaurants," Mendelsohn told WTOP.com. "To me, it's always been sad, the thought that we could throw perfectly good, edible, nutritious food away when there are people starving."
According to an economic food waste study conducted by Rethink Food Waste Through Economics and Data, the U.S. spends $218 billion a year growing, processing and transporting food that is never eaten.
"That adds up to 52.4 million tons of food sent to landfill annually," the report states. "Add to that another 10.1 million tons estimated to be discarded or left unharvested on farms and in packinghouses, and you have a 63-million-ton mountain of wasted calories, resources and energy."
The report also claims that this food-waste mountain would be the size of "over three-quarters of the state of California."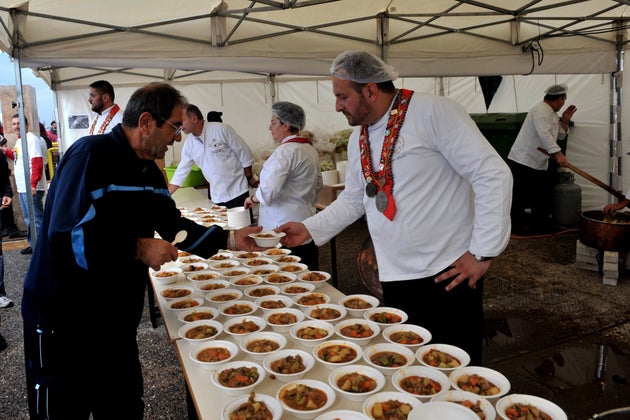 Stuart simply hopes to inspire change, one bowl of curry at a time. He stresses to WTOP.com that avoiding food waste is beneficial in a number of ways:
"We save money, save environmental impact, help to feed hungry people simply by ensuring that all of the food that we have at our disposal gets eaten, rather than actually disposed of."
Read more: www.huffingtonpost.com