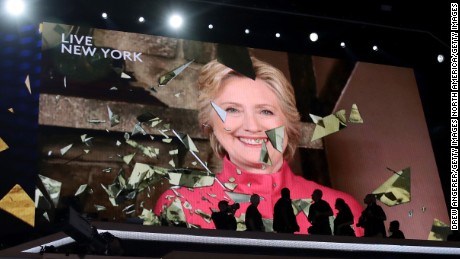 (CNN)Making history. Leaking leaks. Fighting fires. It's Wednesday, and here are the 5 things you need to know to Get Up to Speed and Out the Door.
1. Hillary Clinton
We witnessed history being made last night when
Hillary Clinton became the first woman nominated for president by a major political party
. At the DNC in Philly, just three miles from Independence Hall where the nation was born, Clinton — in her words — put "the biggest crack in that glass ceiling yet." Now, 96 years after women won the right to vote, a woman stands a chance of winning the White House. It's another step in a journey that once seemed impossible, but over the last eight years has seemed inevitable.
2. Democratic convention
Operation Appease Bernie Bros is over. Now the Democrats are fully engaged in Operation Make Hillary Likable.That
seemed to be the convention's theme
yesterday.
Bill Clinton tenderly spoke
of the "girl" he first met in a college class.
Mothers of the Black Lives Matter
movement talked of how Clinton listened to their stories. 9/11 survivors and first responders hailed her a hero for her response to the terror attack.The Clinton makeover continues tonight with a speech by President Obama.
3. WikiLeaks
Will WikiLeaks rock the 2016 campaign again like it did at the start of the Dems' convention? It's possible, founder Julian Assange said yesterday. His whistle-blowing website might
release "a lot more material"
relevant to the election. Would this information come from the Russians, as alleged by some Democrats? Hey, we don't reveal our sources, said Assange, who wouldn't confirm or deny Russian hackers were the behind the leaked emails.
4. French church attack
The horror never seems to stop in France. The French, still reeling from the Nice truck attack from a couple of weeks ago, had to deal with another act of terror, in one of the most sacred of places: a Catholic church during morning mass.
Two men killed a priest
and briefly took five people hostage yesterday in a small town in northern France. Police killed the two men; French President Francois Hollande said the attack was carried out it in the name of ISIS.
5. California wildfire
It's the perfect recipe for disaster: five years of drought + searing heat + windy conditions = deadly wildfires.
A pair of blazes raging in California
have burned tens of thousands of acres. One person is dead, at least 18 homes burned and 20,000 people evacuated. Even a historic movie lot near Los Angeles was destroyed. And the flames will probably burn for quite a while, as neither wildfire is anywhere close to being contained by firefighters.
BREAKFAST BROWSE
People are talking about these. Read up. Join in.
Pacific prize
Most of us will just win a lousy TV or stereo in a raffle. A guy in Australia took home an
entire Pacific island resort
. Not bad for a $49 ticket.
Drink up
Need more protein in your diet? Scientists are whipping up a
milk made from cockroaches
that may one day be suitable for humans to drink. Um, we'll pass.
Crash test dummy
Want to survive a car crash? It helps to look like this guy: flat face, large skull, super-thick ribcage.
Meet Graham
, a sculpture made to endure car wrecks.
Money makes you sick
Tyler Johnson had an interesting reaction to his
new $50 million deal
with the Miami Heat: he threw up. That's not how we'd respond, but to each his own.
Bucket of hope
Remember the
Ice Bucket Challenge
? Turns out it actually worked. Cash raised by it led to an important breakthrough in ALS research.
AND FINALLY …
Eat up
Truth or dare is for children. James Corden makes celebs play grown-up games: answer tough questions truthfully or eat a cow's tongue. Yikes!
Read more: www.cnn.com