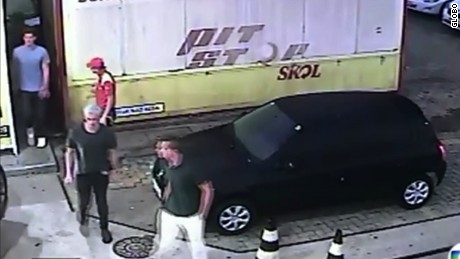 (CNN)Lochtegate, Louisiana and leverage. It's Friday, and here are the 5 things you need to know to Get Up to Speed and Out the Door.
1. Lochtegate
This is all getting weirder than Ryan Lochte's hair.
So it looks like Lochte's story just doesn't hold water. Brazilian police say he and three other swimmers weren't robbed; they vandalized a gas station bathroom and then got into an altercation with security guards. Now, everyone agrees someone pulled a gun and money changed hands. But calling that a "robbery" seems a little much.
2. Campaign 2016
It wasn't an apology, but it's the closest Donald Trump's ever come to saying 'My bad.' Trump, in his first rally since shaking up his campaign team, said he
sometimes says "the wrong thing"
and regrets – he's had a few. Aww, a new, reflective Trump … or was this a one-off? Meanwhile, the
Clinton Foundation promises not to accept foreign or corporate donations
if Hillary Clinton is president; Bill Clinton's also swearing off paid speeches then. It's all part of Team Clinton's attempt to shed those pesky pay-to-play charges.
3. Louisiana flooding
The deluge that's swamped southern Louisiana is the
worst natural disaster to hit the US since Hurricane Sandy
. And the misery will be with us for many, many days. At least a dozen parishes are still under flood warnings and more storms are in the forecast. Louisiana's flat, so the water goes down very slowly. As CNN meteorologist Dave Hennen put it, "This is a very lumbering, slow, slow flood."
Cracked truths
Joining the jet set
Well that's one way to get frequent flyer miles: A baby born on a flight from Dubai to Manila was
gifted 1 million air miles
by a Philippines airline.
AND FINALLY …
Bust a move
Reporters are all over Louisiana covering the floods, so this talented little boy decided to turn a live shot into "America's Got Talent."
Read more: www.cnn.com