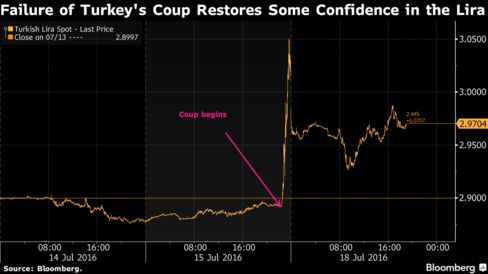 On Friday night Turkey experienced a destabilizing coup attempt, yet fast forward to Monday morning and it boasted the world's best-performing currency.
The lira jumped by as much as 3 percent in the day's trading, erasing much of the losses it recorded on Friday night as putschist factions were laying siege to infrastructure in Ankara and Istanbul. That doesn't just reflect the fact that the government restored order over the weekend by defying the coup. It also means money markets appear to be defying predictions issued by everyone from Goldman Sachs Group Inc. to HSBC Bank Plc. that the political instability laid bare by the events means a weaker currency.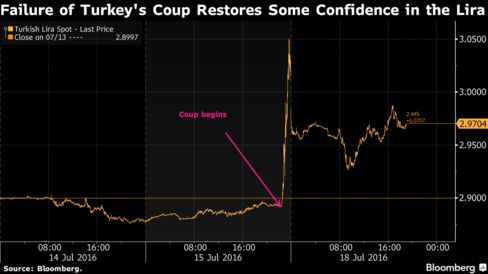 Even if initial market reaction flew in the face of the weekend's forecasts, $120 billion says there's no need to bin those analyses just yet. That's the amount of money Turkey's banks owe to institutions abroad; a debt burden that may become more costly to roll over if foreign sentiment perceives that lending to Turkey isn't a safe bet.
"I think if you borrow more than $100 billion from stressed foreign banks in a country which is now racing towards banana republicanism, as an investor you need an eye on the exit," said Paul McNamara, a fund manager at GAM UK.
While some may dispute his analysis of the country's trajectory, a slew of economists have joined McNamara in citing Turkey's external imbalances as a route to currency weakness: not one that harms the lira today, perhaps, but which may hurt it in the weeks to come. While the lira recovered a big part of the losses it initially registered in the hours after tanks rolled into the capital on Friday night, the yield on the country's benchmark bonds has jumped 73 basis points since their Friday low of 9 percent, the biggest shock of its kind since 2013.
Turkey's debt burden hasn't much troubled investors in recent months, amid a global backdrop that's been kind to emerging markets. Yet, Turkey's banks have about $100 billion owed to foreign lenders and about $20 billion owed to non-bank institutions that they'll need to roll over, according to Bank of International Settlements data.
HSBC called that an area of concern when making its call that the currency will be weaker in the near term, and Goldman Sachs revised its forecast for the lira over the next three months to what would be a record of 3.10 to the dollar, from its previous expectation of 2.95.
Goldman's economist Clemens Grafe issued his call just as the dust was settling on the violent clashes of the weekend, and the backlash against the alleged perpetrators had begun. Public employees' travel outside the country is banned for all but holders of certain passports, who can travel abroad with permission, NTV reported today.
If Turkey's vulnerabilities start at the fact that it's sensitive to foreign sentiment, they continue through the risk appetite of its own citizens, who've historically been quick to change their bank deposits into foreign currency when they fear their lira savings might devalue.
The $102 billion in foreign currency deposits owned by householders make them "key players" in the exchange rate, said Manik Narain of UBS Group AG. "That's about 25 percent more than corporates reportedly hold."
That so-called dollarization phenomenon is something that can put pressure on the country's banks, as well as the currency itself.
"I think the foreign banks are more likely to trigger trouble," McNamara said today of the country's foreign liabilities. "But FX deposits are what turns trouble into an avalanche."
The two factors highlighted by the fund manager were also named by analysts at HSBC, who see the currency weakening over the long term even though Turkey's current-account deficit has shrunk over the last year to under 5 percent of gross domestic product.
"While the current account shortfall has narrowed, Turkey's external debt that falls due within the next 12 months remains high," said HSBC economist Melis Metiner in a note to clients today. "There has been no meaningful reduction in the country's total external-financing requirement over the past few years, which remains very high at the equivalent of some 27 percent of GDP."
Set against these predictions are the reassurances of Deputy Prime Minister Mehmet Simsek, a former Merrill Lynch economist who's now the country's highest-ranking economic official. He's vowed to press on with a reform program that's been on the back burner over recent months, amid a change in prime minister and terror attacks that were rocking the country even before Friday night's bloody coup.
Read more: www.bloomberg.com