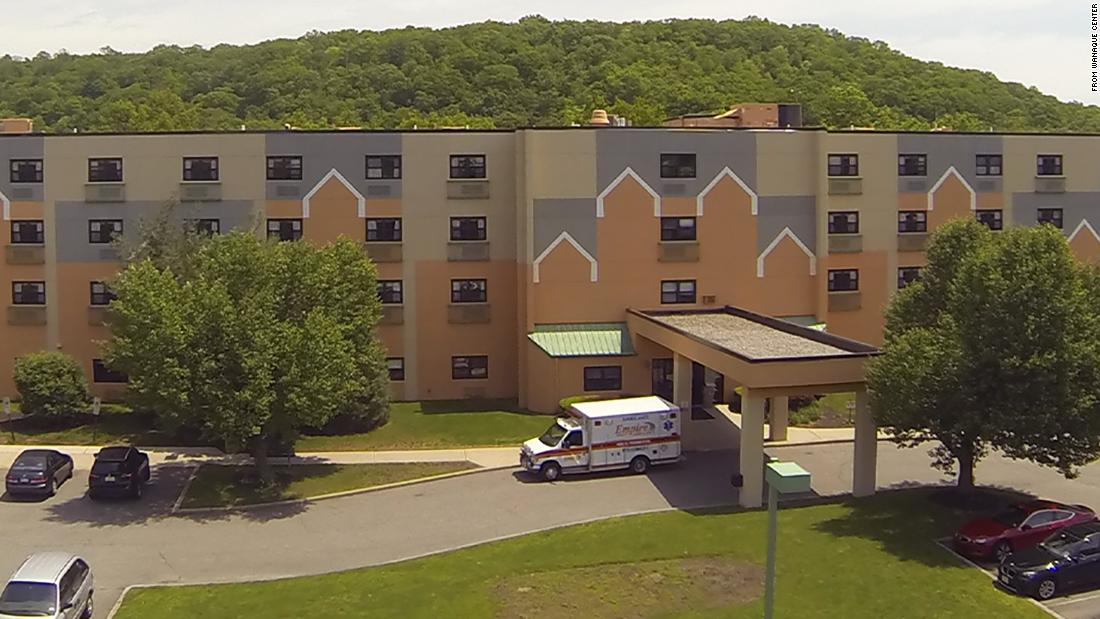 (CNN)Ten children have died and 18 others have become sick in connection with an adenovirus outbreak at a New Jersey health care facility, the state's Department of Health announced Thursday.
The confirmed cases became ill between September 26 and October 30, according to the health department. The number of illnesses has risen from 18 cases, including six deaths, announced
last week
by the health department.
"They range in age from toddlers to young adults," New Jersey Department of Health Commissioner Dr. Shereef Elnahal said last week. "Some have been hospitalized, and some are being cared for at this facility."
A staff member was also affected by the outbreak but has recovered.
Symptoms may appear two to 14 days after being exposed to the virus, the state health department said.
The Wanaque outbreak was caused by an adenovirus strain known to affect "communal living arrangements," according to the state health department — but some wonder whether more could have been done to prevent this, according to former employees and the mother of one child who died as a result of the outbreak.
"I'm upset that the kids I took care of — that were all getting better and getting stronger and learning to walk — are now dead," said Javier Guzman, who worked at the Wanaque facility for nearly five years as a recreational assistant until March 2017, when he said multiple staffers were let go.
"They were such beautiful, happy little children. They may have had compromised immune systems, but they led normal children lives. All they wanted to do was play and sing and clap," Guzman said.
Former employees said it came as a shock to hear about deaths among young residents at the facility. In some cases, former employees described a facility in need of maintenance, as well as cleaning and infection control practices that appeared to be lacking — including an air filter that needed cleaning, a leaky ceiling and an ice machine collecting what appeared to be mold. The former employees said these issues were reported to management.
However, another former employee, who requested not to be named and left the facility to pursue another career, said she had a positive experience at the Wanaque Center, whose maintenance staff she generally found to be responsive. She said she believes that the facility met industry standards but, speaking more generally, that those standards might be too low across an industry she described as chronically understaffed and underpaid.
The facility did not respond to CNN's questions about comments made by former employees.
The union said it represents 70 nurses who work at the Wanaque Center.
"Every year in the state, there are hundreds of outbreaks at healthcare facilities," Elnahal added.
Last week, health department commissioner Elnahal described these as "low-level, self-limited deficiences" that were resolved when health inspectors rechecked.
"It is rare that in any inspection a facility would come out with no citations," Elnahal said. "If it's a number of citations, all of which are low-level, we ask for a plan of correction. We make sure the facility follows through — and that's what this facility did here.
"If the findings are severe enough to take further action, we will," he added.
Christopher Podmayersky, a former activities assistant at the facility, said "I was there for almost seven full years, and nothing ever like this happened.
"It's just heartbreaking because I feel like this could have been prevented," he said.
Poulos' daughter, who had required breathing and feeding tubes as part of her normal care, was transferred to a hospital with a fever but was transferred back to the Wanaque facility, where she died last week, according to WABC.
Although the complete timeline of deaths at the facility remains unclear, the Wanaque facility said it "promptly notified all appropriate government agencies when the virus was initially identified." According to health department spokeswoman Nicole Kirgan, state health officials were notified of respiratory illness at the facility on October 9, and the facility notified parents 10 days later, on October 19.
Poulos told WABC that her daughter Elizabeth had been diagnosed with adenovirus at least five days before state health officials were notified. "Why wouldn't you report it sooner?" she asked.
The facility has not responded to calls and emails for further comment. The facility has been "instructed not to admit any new patients until the outbreak ends and they are in full compliance," according to the state health department. State health officials have said the outbreak can be declared over only once four weeks pass without an additional case.
Health experts say that the amount of time it takes to respond to a potential outbreak and notify families is variable and may depend on how long they need to investigate an outbreak, culture a virus and confirm its identity.
According to Elnahal, "It can be difficult to impossible to know how the virus got to the facility, what its source was, or what its specific mechanism of spread is from person to person."
But Poulos told WABC, "I just want to know what happened."
Read more: www.cnn.com