Even if you've destroyed your taste buds enough to actually enjoy drinking vodka sodas, you can't deny that nothing is more appealing in the summer than a frozen beverage. Theyll cool you down, get you fucked up and they usually come in frighteningly artificial colors which is great for your Instagram. The only problem? A lot of them are ridiculously unhealthy. Like Im pretty sure if you consume a frozen mudslide you instantly get diabetes and die. We don't want that to happen to you because then who would read our site, so weve found 10 frozen cocktails you can drink this summer that won't make you (that) fat. Unless you put whipped cream on top, in which case you're on your own and are probably on the wrong website.
1. Lime Margarita
1 oz premium or silver tequila
oz Cointreau
1 oz fresh-squeezed lime juice
1 oz flavored water or seltzer (optional)
Blend with 3/4 cup ice, garnish with a lime and voil, the most classic of all frozen tequila goodness is ready.
Get the full recipe here.
2. Froz
6 oz ros
2 oz simple syrup
4 cups ice
Mix that shit together and then blend until smooth. Recipe serves two regular people or one betch who's really tryna get lit.
Get the full recipe here.
3. Pia Colada
1 oz light rum
3 oz coconut milk or light coconut milk
2 tbs crushed pineapple, drained
Blend and garnish with a pineapple, mostly for making it look pretty, obvi.
Get the full recipe here.
4. Coconut Banana Daiquiri
1 banana
cup coconut milk
4 oz rum
2 tablespoons orange juice
2/3 cup ice cubes
Blend and puree. Serve in the most obnoxious plastic cup you own.
Get the full recipe here.
5. Frozen Sangria
8 oz red wine
2 oz brandy
2 oz triple sec orange liqueur
3 cups frozen fruit (peaches, pineapples, and mixed berries all work)
Pinch of ground cinnamon
Blend and puree. Brag to all your friends about how versatile this drink is.
Get the full recipe here.
6. Frozen Gin and Juice
3 oz. gin
1 oz. triple sec
3 oz. orange juice
1 oz. lime juice
1 oz. simple syrup
Fill blender halfway with ice and blend until smooth, while playing Snoop in the background. Laaaaaid back.
Get the full recipe here.
7. Peach Cooler
4 cups frozen peach slices
cup lime juice
cup coconut milk
cup rum
cup simple syrup
Blend until smooth and garnish with a fresh peach slice aka not the one thats been rotting in your fridge since summer 16.
Get the full recipe here.
8. Watermelon Margarita
2 cups cubed seedless watermelon
cup lime juice
cup tequila
cup orange juice
1 cups ice
If you have your shit together, freeze the watermelon for two hours in advance (this is optional but will make it taste better). Blend everything together until smooth.
Get the full recipe here.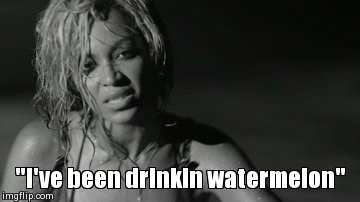 9. Strawberry Daiquiri
1 oz rum
cup strawberries
Juice of 1 lime
1 tbsp sugar or sweetener
1 cup ice
Blend until smooth (you know the drill at this point). Throw some extra strawberries on top if youre feeling fancy, but not too many because sugar.
Get the full recipe here.
10. Mango Margarita
1 cup fresh chopped mango
cup freshly squeezed lime juice
cup tequila
cup triple sec
Honey (optional)
2-3 cups ice
Blend together and garnish with a lime. Deny sips to anyone who asks because you worked hard for this one.
Get the full recipe here.
Read more: www.betches.com